via Glenn Starkey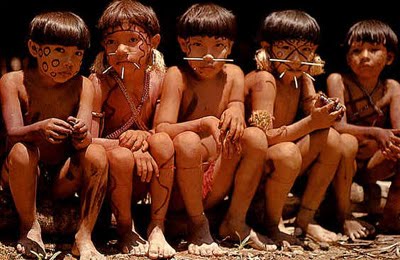 Imagine if your family lived in a rain forest village under primitive conditions. In addition to the daily struggles to provide food for your family, you must be concerned with brutal Maoist guerilla factions such as the Shining Path traveling through your land; drug cartels and trafficking, their soldiers killing anyone they find in order to protect their drugs; land grabbers and 'loggers' raping and savagely killing your loved ones then burning your village to the ground because they want the trees for lumber—or the gold seekers who murder villagers in order to stake a claim and destroy the land as they mine for gold. But worse, is when governments such as the Peruvian government use their military to bomb your village and then send in militia to drive you out. The indigenous tribes of Amazonia once numbered in the thousands, now due to civilized society's gifts of rape, torture, murder, infectious diseases, venereal diseases, and violent land grabbing, some tribes are near extinction and fragmented while others only number in the hundreds.
via Nature.com
Studies dating back to the 1950s suggested that small indigenous tribes merely scratched out a living in primitive villages before the arrival of Europeans. But more recently, researchers have proposed that the Amazon hosted complex societies that turned swathes of the forest into farms and orchards. Some estimates place the prehistoric population of the Amazon as high as 10 million — a huge number considering that the current population is around 30 million. The debate is heated. When McMichael and her colleagues reported last year that indigenous occupations might have been rare in the most-remote parts of the jungle, their paper outraged archaeologists.
The topic evokes strong emotions in part because it touches on the sensitive issue of indigenous land claims and goes to the heart of conservation philosophy. If prehistoric human populations were limited and today's Amazon is relatively pristine, then one might assume that this otherwise stable and natural ecosystem would be altered by any human disturbance — let alone the clearance of vast tracts of forest for agriculture (in Brazil alone, an area greater than Germany has been cleared over the past 25 years). By contrast, if the primeval Amazon was filled with people who managed the landscape, then the forest might be capable of absorbing further human impacts. Encouraging indigenous practices, even on a large scale, might allow people to live in balance with the rainforest.
via National Geographic
Beginning in the early 1980s, these photos from space lost more and more green, so that by 2004 the destruction seemed unstoppable. Brazil's deforestation rate had reached an alarming 27,000 square kilometers (nearly 17,000 square miles) per year.
But stop it did—not everywhere, but at the borders of what appears from space to be a green island the size of a small country. The brown spreads around this protected zone in the southern Xingu river basin of Brazil, but doesn't penetrate.
via Forbes
Towards the northern part of Brazil, at the border it shares with Venezuela, illegal gold miners have disrupted the protected land of the indigenous Yanomami tribe.
This is not a new development for the Yanomami, as the issue peaked in the late 80's and early 90's after illegal gold miners destroyed Yanomami land, effectively killing off a large portion of the tribe due to malaria, mercury poisoning and outright violence.
via The New York Times
The trip was to be a departure from the typical Amazon tourism, which tends to package wildlife viewing with a certain cultural voyeurism. I wanted something more immersive and participatory: an experience with Ecuador's indigenous people that would expose me to a different orientation altogether. Casting myself into a world that was utterly foreign, I hoped to return with new insight into the familiar.
Earlier in the week — an evening in late spring — I had landed in Quito, Ecuador's capital, which sprawls at 9,350 feet along the base of an active volcano in a distinctive atmosphere of thin air and diesel fumes that aroused dormant memories of the semester I had spent there during college. With me was David Tucker of the Pachamama Alliance, a San Francisco-based nongovernmental organization that supports the cultural and territorial rights of Ecuador's indigenous people and operates specialized tours into their homeland.